1975 FMC Motor Coach

#0839 (T)

ex Denver RTD Transit Bus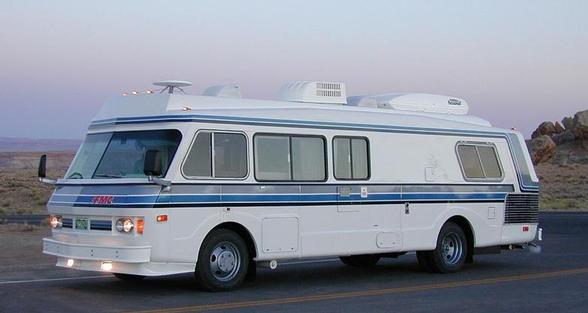 There is a Yahoo! group for FMC Motor Coach owners and fans
Click here to visit the group and join, or use the form below:
Doug Keister photographs our bus for his new book Mobile Mansions
Edelbrock Pro-Flo Multi-Point EFI system install
We bought this motorhome in summer of 1999, to take to Alaska and Northwest Canada. We had thought about renting a motorhome, but the cost to rent one for 6 or 8 weeks, extra mileage and the drop charge at Anchorage (plus airfare home), was at least 2/3 what we spent for this FMC.
When we started shopping, we were only interested in FMC and GMC - both motorhomes from the 1970s. Eventually we settled on the FMC, partly because of potential traction problems with the front-wheel-drive GMC in slippery uphill situations.
FMC's Motor Coach Division built some 1050 vehicles between 1972 and 1976. Approximately 135 of these were Transits, and there were a like number of shuttles built on motorhome chasses as well.
The FMC used a proprietary chassis with very compact fully independent suspension. Front: upper and lower control arms with a transverse leaf spring. Rear: trailing arms on torsion bars (much like a VW Super Beetle rear suspension - suitably beefed up). Having the engine in the rear allowed the floor to be very low, with a correspondingly low center of gravity. That, plus having the wheels even with the outside edges of the body makes for very stable handling.
The FMC 2900R Motor Coach employed the Marine-Industrial version of the Chrysler 440 Wedge. Mated to a Chrylser 727 Loadflite 3-speed automatic transmission, the engine was mounted into the passenger side corner of the engine compartment at an angle. The driver's side corner was balanced by a 6.5 kW Onan generator. A short, carefully phased driveshaft connected the transmission output to the frame-mounted Rockwell differential. Two more short u-jointed shafts took the drive out to the wheels.
Transits differed from motorhomes in a few ways:
engine mounted 'straight' - along the vehicle center line
4-speed Allison AT 540 automatic transmision instead of Chrysler 727
4-wheel disc brakes instead of drums
full-width deep rear deck over engine
dropped well for the entrance door
no driver-side entrance door
raised front roofline, accomodating the bus destination sign
The previous owner of our 'bus' did a lovely motorhome conversion. The floorplan has nothing to do with 'real' FMC motorhomes, but we actually prefer it. It is set up very well for 2 people, although we've had up to six people for dinner...
Last Spring, we took the FMC to Recreation Vehicle Services (RVS) in Morgan Hill, CA to have Jim Black do something of a restoration. Jim worked in the Motor Coach Division in the mid-70s, both at the factory and in the field, solving problems. When production ceased, FMC helped establish RVS in part to offer warranty service for FMC. Therefore, Jim is among the most knowledgeable people who work on FMCs.
Here is a partial list of replacements and modifications:
repairs and reinforcements to cracked chassis frame
rear suspension trailing arms, torsion bars and bearings replaced (rusted solid, bearings shot)
front suspension spring and upper control arms replaced
rebuilt steering gearbox and steering column (CV joint and 'rag' joint shot)
rubber stabilizer kit on rear trailing arms
75 gal fuel tank swapped for the stock 50 gal tank
AirSensors fuel injection system w/ mass airflow sensor
external transmission and engine oil coolers
remote dual oil filters
new exhaust manifolds (cracked)
dual exhaust system with crossover pipe
Ramco mirrors, electrically operated and heated
powder coated bumpers
remodeled bus marquee
new paint with 1976 factory style stripes
air dam with driving lights
swing-away spare tire carrier
dash reupholstered with factory-style cover
factory style LP gas door instead of modified old A/C condensor grille door
omnidirectional TV antenna (Winegard RoadStar 2000)
Packasport fiberglass roof pod
4500 watt Honda generator (2 cylinder, liquid cooled)
all new relays and breakers for domestic and engine electrical
4 new domestic batteries with battery isolator
new taillights with amber turn signals
Above and below, you can see some of the results.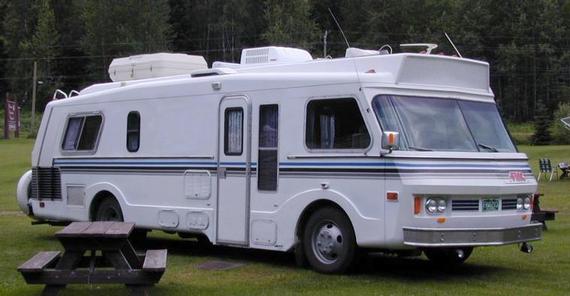 Before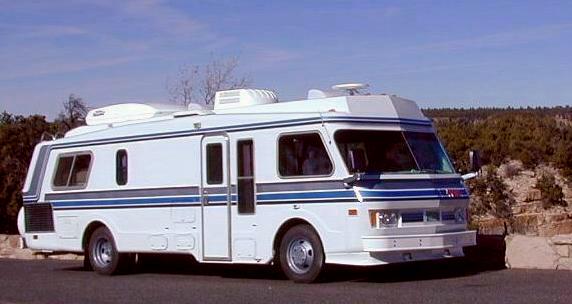 After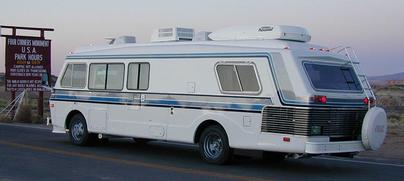 at Four Corners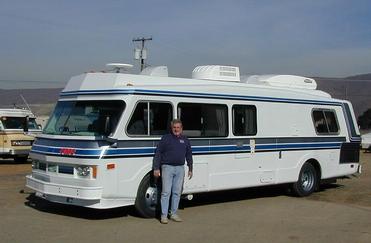 with Jim Black @ RVS
Back to my web page
email:jim@steinborn.org