Click on any picture to enlarge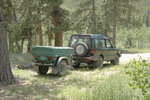 Sportsman at the campsite
Sold
Here is a rare opportunity to own an extremely capable, comfortable, practical and (dare I say it ;-) legendary off road camping trailer. USA VenturCraft only made a handful of these fine trailers. You will occasionally see one of these out on the trail or on a website - a prized part of a well-equipped offroader's kit.
This is a fully-optioned trailer, including fiberglass lid, skid plates, cooler rack & cover, front rock guard, 31x10.5" tires, 15" American Racing wheels, pintle hitch (hitch to fit Class III receiver included), gel-coat inside & out, non-slip interior storage compartment texture, Dexter TorFlex axle with EZ Lube hubs, rear stabilizer jacks, drain plug for easy clean out, 8' x 10' canopy with 3 telescoping supports, top storage rack, etc. Altogether, the original price was over $4,000.
Comparing this to products from Tentrax, Haultent and Adventure Trailers, you will see that currently they are $6,000 to $7,500! Many of these trailers are much bigger and heavier - more cumbersome offroad.
There is no comparable size/weight trailer that has a tent you can stand up inside of.
The approximately 3' x 5' fiberglass tub is reinforced with an aluminum perimeter frame. This sits on a rugged steel frame supported by the 1,000 lb capacity TorFlex axle. The bed/tent platform folds in half, accomodating a 5' x 6' queen-size mattress. The assembly is hinged to the tub and supported by gas struts, allowing access to the storage area. When the tent is erected, there is a panel under the head of the bed that lifts to access the storage area from inside the tent.
This Sportsman Off-Road camping and cargo trailer was made by USA VenturCraft of Abilene, TX - also the makers of Kwik-Kamp motorcycle and auto trailers. Considered by many to have stellar off-road abilities, a Sportsman trailer has even conquered the daunting Rubicon Trail in California during the 44th Annual Jeepers Jamboree - without any damage!
A report of the run from TruckWorld.com:
This patented camper was the envy of all attendees with its 45 second set up, comfortable queen size bed with adjoining, stand-up dressing room, and access to its 22 cu. ft. of cargo area with the tent up or down. Most impressive was the trailer's trouble-free towing behind the firm's 1995 Jeep Cherokee Country. Stuart Hall, President of VenturCraft said, "The trailer was never a worry on the trail. This camper will go anywhere my Jeep will go. And, sleeping on its queen size bed in the backcountry really takes the rough out of roughing it."
In fact, with 16 inches of ground clearance, full coverage steel skid plates, 31 inch tires and military-type pintle hitch, it's much less likely to encounter any difficulty than the tow vehicle.
Click on any picture to enlarge

Detached & leveled up

Stabilizer jacks down

Storage accessible from outside

21 cubic feet capacity

54 qt cooler
---
This trailer features:
Queen-size matress
Pockets below head of bed for small essential items
Stand-up dressing room
Six screened windows
Full-size screen door plus canvas outer door
Front rock guard
54-quart Igloo Cooler with insulated cover
Special zippered flap to access cooler from inside the tent
Top cargo rack with rub strips
21 cu.ft. of cargo space
3 stainless steel pad eyes on the rear wall to safely lash fuel/water containers
2 stainless steel pad eyes on side walls to prevent load from shifting fore/aft
Access to storage from both inside and outside

Protected wiring harness
8' x 10' canopy with 3 extendable supports
Aluminum-reinforced fiberglass tub construction
Gel-coat inside and out, non-skid texture inside
Drain plug for easy cleaning
4" square storage bumper
Rugged steel frame
Trailer tongue jack with wheel
Military-style pintle hitch assembly
Hitch Lock
1000 lb capacity Dexter TorFlex axle
350 lb cargo capacity
EZ Lube hubs
Full undercarriage steel skid plates
Color Matched 15"x8" American Racing wheels
31x10.50R15 Firestone Firehawk tires
Hubs can easily be changed to match most bolt patterns
---
Click on any picture to enlarge

Lid removed

Lid

Opened up

Another view

White rainproof roof

Inside view

Storage accessible from inside, too!
---
This trailer is very easy to set up in less than one minute:
Maneuver into position
Detach from tow vehicle
Deploy rear stabilizer jacks
Level up fore/aft using tongue jack
Unlatch and remove lid
Lift floor frame off folded tent and place on ground
Unfold mattress platform - prop lowers to ground by itself
Slide upper tent supports up and tighten thumscrews
Unzip door and walk in!
---
Click on any picture to enlarge

Stainless steeel pad eyes

Neat, protected wiring

Military-type pintle hitch: lots of articulation!
| | |
| --- | --- |
| Cleaned up and ready to go! | Slips in behind very neatly |
---
With a GVWR of only 750 lbs, this trailer tows easily behind any vehicle. The pintle hitch allows much more articulation on the trail, but doesn't make much more noise than a conventional ball hitch.
As you can see, the trailer is narrow enough to be towed by a Jeep or other compact 4X4 vehicle.
---
Click on any picture to enlarge

Rock chips on front...

...and fenders

Repaired crack in fender

Spiderweb in gel-coat
---
Alas, not all is perfect...
This trailer only has about 15,000 miles on it. We towed it on our epic trip to Alaska in 1997. It acquired many rock chips on the front of the lid and the fenders traveling up the Dempster Highway to Inuvik.
Also, one of the fenders has a crack when I let one side drop into a small gully and got hung up on a rock. There is one area on the lid with some spider web cracks in the gel-coat.
The trailer was originally supplied with a swivel hitch for unrestricted articulation. Unfortunately, that meant that if you hit a sufficiently large bump, there was nothing to stop the trailer from going onto it's side :-( Fortunately, there was only cosmetic damage to the lid. This was repaired and reinforced with fiberglass mat.
The canvas is all in very good condition. There are a few areas discolored from road dust and from rubbing on the aluminum structure, but there is no mold or mildew. The tent is still water tight and very comfortable. This Sportsman trailer is in very sound condition and is ready for many, many more miles on the road and trail.
---
Sold
Payment by cashier's check or PayPal.
Buyer pays shipping. Buyer may also pick it up in Fort Collins, CO.
$50 delivery within 125 miles of Fort Collins, CO.
Questions?
e-mail me